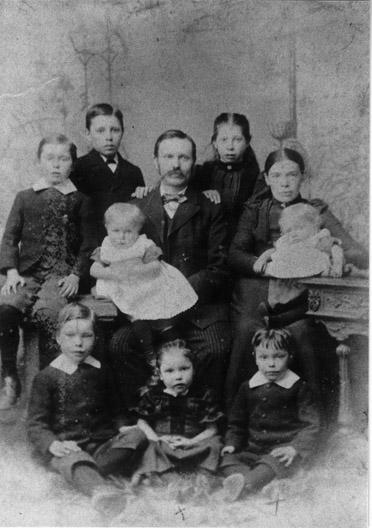 James and Caroline Smithies with their children

Joseph and Hannah are standing at the back.
James is sitting beside his father.
Sitting on the floor from left to right are John, Inez Alice and George.
Twins Sydney Thomas and Roland William are on James and Caroline's laps.
Alfred died at the age of 1, three or four years before this photograph was taken.
The family of James Smithies
Hello
Welcome to www.jamessmithies.com, the website for the descendants of James Smithies (1850-1918). I hope that at some point it will be possible to include the descendants of his brother Jonathan and their other relatives and ancestors.



This site was started by my late wife Jill, who died in August 2010. I'm not sure whether another member of the family will continue her research in the future but if you have any questions please email fh@planetrobinson.net and I'll do my best to answer them. Paul Robinson

First, I have to say a special thank you to Harold Bittner, who very kindly sent me a number of old photographs of the family, most of which had names and dates on the back. Without these photographs I doubt whether it would have occurred to me to set up this website.

My thanks also go to my husband, Paul, and son, Richard, for their help and support. Such is my knowledge of computers that this website would not be possible without their assistance. I must also acknowledge the contribution by Inez Willett and my father, Frank Smithies, who aroused my interest in genealogy. Thank you too to Philip Smithies and Philip Chadwick, who are so generously exchanging family information and photographs with me. Final thanks in advance to all of you who join in and contribute to this website.

Many of you will find errors for which I apologise. Hopefully, you'll be able to provide corrections and also answers to questions, such as: Where, when and exactly what degree did James gain? Was he really a doctor of music (tuba or 'cello)? Does anyone have any hard evidence that Caroline Allen's mother, Margaret, nee Richarson, was born at Edinburgh Castle on the 3rd September 1829? All help from you will be gratefully received.

James Smithies had eleven children, two by his first wife, Jane Fitton and the rest by his second wife Caroline Allen. If you are descended from one of his children, please could you contact me by email: fh@planetrobinson.net. It would be great to hear from all the cousins (i.e. 1st, 2nd, 3rd, removed etc). Samuel Arthur and Margaret, the two youngest children died without issue and do not appear on this photograph though they will appear elsewhere on the site. However if you are descended from any of these people, I hope that you will be able to join us here and contribute photographs, biographies and autobiographies to the site. If you aren't related, I hope you enjoy the site anyway.

I'm looking forward to hearing from you all.

All the best,

Jill Robinson (Gillian Mary, nee Smithies)

Click here to see the family tree of James Smithies

Click here to see the family tree of John Allen